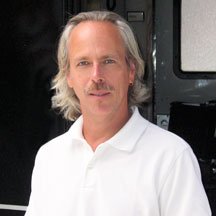 After graduating from The University of Pennsylvania, Kip Meyer moved to New York to embark on his career in photography. His superior knowledge of the science of photography and artistic eye, coupled with his quick wit and engaging personality, facilitated his swift success. Highly respected for almost 20 years, Kip is a world-traveled photographer, well established in both the New York and London markets.

Kip has created more than 30 international covers and hundreds of fashion and beauty editorial pages. These publications include COSMOPOLITAN, ELLE, MARIE CLAIRE, ESSENCE and BRIDES UK. His beauty photographs have highlighted worldwide campaigns for The Body Shop, Redken, House of Fraser, Zoto International and Nivea.

He enjoys working with his many commercial clients including Dick's Sporting Goods, Alfred Angelo Bridal (awarded best magazine ad at 2015 Paris Bridal Fair), Marks and Spencer, Bloomingdales, Lord & Taylor, Spiegel Brands, and Charming Shoppes. Oprah Winfrey, Cameron Diaz, Halle Berry, Toni Braxton and Mariah Carey are among the many celebrities immortalized by Kip's outstanding photography.
TESTIMONIALS
Lori McFadden: Creative Director|Art Director|Designer
"Kip's technical expertise combines with his creativity and positive approach to guarantee the very best results. Kip has made me look terrific in two staff positions, and more recently when I recommend him to clients. In studio or locations, he can handle all sorts of variables and turn on a dime for a special request. His good humor keeps spirits up in even the most challenging situations and he always makes it look easy. I look forward to working with Kip, again and again."
Lilly Goldbard: Creative Director
"I have had the pleasure of working with Kip over the last 10 years. Always finding the right creative solutions to best feature clients' goals with an exceptional eye for lighting and composition. Consistently great- brings out the very best in the entire creative process!"